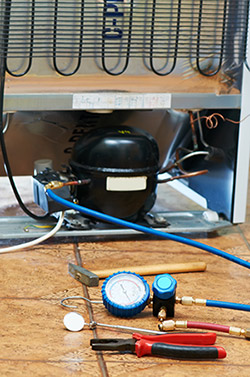 Eagle Appliance Service specializes in refrigerator repair and installation in the Anchorage, Port MacKenzie, Portage, Alyeska, and Municipality of Anchorage, AK areas. Since 1986 we have been the number one company you can count on for all of your refrigerator repair needs.
We know the significance a refrigerator plays in your home kitchen, office or business space and we want to ensure it is working properly. If you are looking for honest and reliable company, then you need to contact us.
When your refrigerator is not working properly, it can cause an array of problems. Eagle Appliance Service will come in and assess your refrigerator to see what the exact problem is. It can be stressful having to deal with refrigerator problems on your own, but now you do not have to. Whether you have a minor or a major issue, we can perform all of your refrigerator repair needs in the Anchorage, AK area.
We can help repair any refrigerator issue you're having including:
Cooling issues
Broken Ice Makers
Faulty Ice Dispensers
Refrigerator is too loud
Clogged refrigerators
And more
Our professional staff will work efficiently to get your refrigerator working back to normal. With years of experience under our belt, you can rest assured that we will take care of all your refrigerator appliance repair needs.
Eagle Appliance Service are the trusted professionals you need to go to for all of your refrigerator repairs. We ensure that every job we perform is up to the highest of quality. Customer satisfaction is our top priority, and we promise we will do an exceptional job on your refrigerator repairs.
Don't waste time searching for another company just call on Eagle Appliance Service. We are trusted professionals in the refrigerator repair industry. Next time you are looking for someone to take care of your refrigerator, oven, washer and dryer, or dishwasher repair, contact us today.